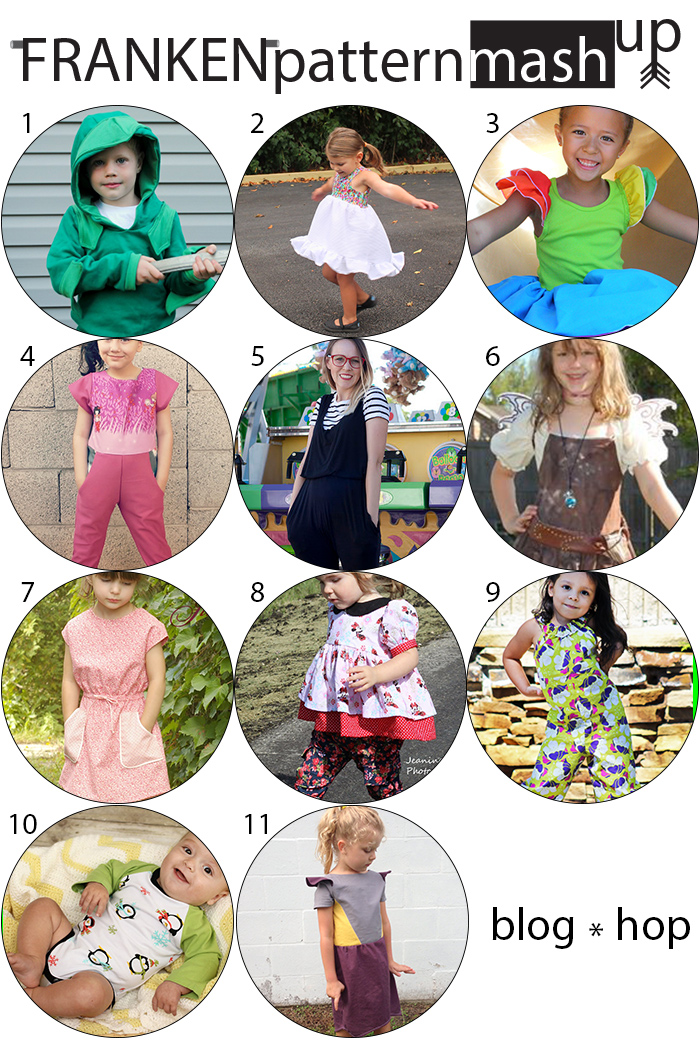 I'm excited to be doing this Pattern Mash Up Blog Hop, I made this pattern last month for a contest that I actually won (the willow and co back to school contest) and today i'm showing you how I made it by mashing two patterns that I love :o). First off just by looking at both of these patterns you can clearly see there is no need to change them what so ever, but then your given a chance to match up a pattern. What should i match up? well how about to really awesome well know patterns, have a go and see how it turns out...I think it turned out pretty awesome if you ask me!
vs
I love both of these patterns so what I did was used the bottom of the Ash Jumpsuit and used the bodice of the vintage style flutter sleeve dress. I first took out any and all elastic from the outfit and I also used a zipper to take it off instead of buttons and I used more of a cap sleeve then flutter sleeves.
I have to tell you this is one of my favorite mash ups around I personally think :o) Chloe (my daughter wearing the jumpsuit) is so in love with this outfit. I think for one it's something completely different and unique and second it's not just a dress or shorts etc it's a jumpsuit with crazy fabric choices and she thinks it's so fun looking and is super comfy to wear. She said she loves jumpsuits and wants about 5 more of these made I said alright that's what I like to hear!!
she loves the pockets are deep and she can put her chap stick in them etc, also on the bottom of the pants there rolled up instead of elastic. Every time I put elastic in shorts or pants she hates the way they feel so anything with elastic I just modify to make it look just as cute with out the elastic in. I love the rolled up
skinny look.
The top I used wee wanders and a cap sleeve I was going to do the flutter sleeve but really liked how the cap sleeve looked with it better.
you would go on for hours thinking how she is able to get in and out of this look if I didn't take a picture of the back of the jumpsuit which I love how that fabric is just going all over the place and its such a fun little mash up of fabrics and patterns!
I added a zipper right down the middle instead of adding buttons she can actually unzip it her self but, if it were buttons she wouldn't be able to get out of it with out help so that's a win right there. I've seen jumpsuits before but I don't think I've ever seen one like this before and guess what I love that, I created something completely out of the box and unique but still simple and you know what it is by just looking at it.
I hope you liked what I made using two incredible patterns, its hard to come up with something new when the patterns you have are already perfect. But sometimes mashing up two patterns the end results can surprise anyone, this one I do have to say was a success in my daughter's eyes and mine :)
Don't forget to check out all the other amazing designers along on this blog hop, see what everyone else has mashed up and how awesome they all came out!!!